Break away from your comfort zone and push yourself into trying something you wouldn't usually consider. Whether you want to strength train, do some cardio or mindful yoga, we offer a range of classes to choose from.
Tabata
Tabata is a 60 minute a high-intensity interval training class, alternating between 20 seconds of max workouts followed by a 10-second rest for a total of eight rounds. Exercises consist of squats, burpees, lunges, jumping jacks and can incorporate weights using dumbbells, medicine ball and kettlebell. These workouts are fast-paced and challenging to keep the body burning calories while gaining strength, stamina and endurance.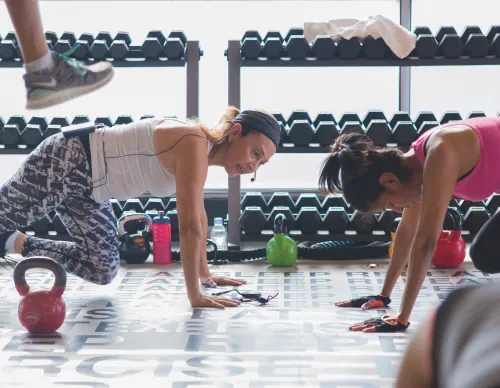 Body Pump
Body Pump is s 60-minute class focused on weight training exercises that will work all the major muscle groups for a more toned, fitter and stronger you are using barbells and dumbbells ranging in weight. Exercises include should press, chest press, squats, bicep curls etc. The more muscle we build the faster our metabolism becomes and the more we protect our bones.
TRX
Change the way you train with TRX Suspension Training that include body weight exercises which simultaneously develops strength, power, endurance, mobility, durability, balance, flexibility, and core stability in the body by the user's body weight against gravity to complete hundreds of exercises. This class is geared to make you sweat and push your limits.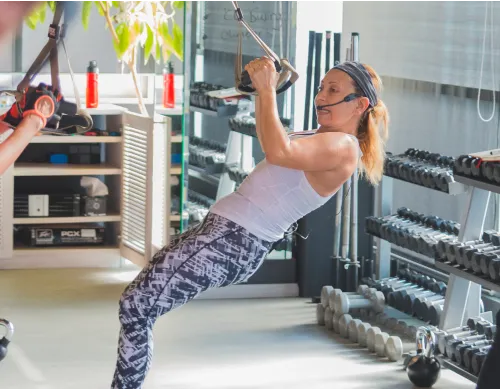 Step Aerobics
Step Aerobics is a form of aerobic exercise using of an elevated platform (the step). Set to music and choreography to increase your heart rate and burn calories!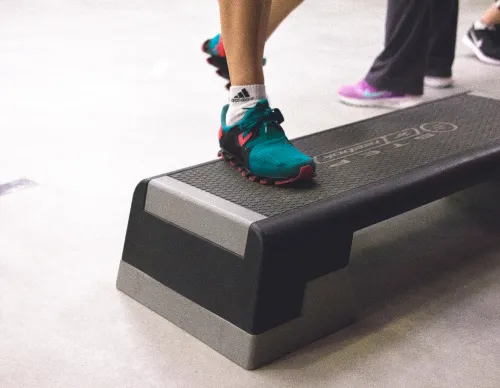 Circuit Training
is a form of body conditioning or resistance training using high-intensity workouts for 1 minute or 30 seconds per exercise. Circuit training targets strength building and muscular endurance. An exercise "circuit" is one completion of all prescribed exercises in the program. When one circuit is complete, one begins the first exercise again for the next circuit. Traditionally, the time between exercises in circuit training is short for minimal recovery period.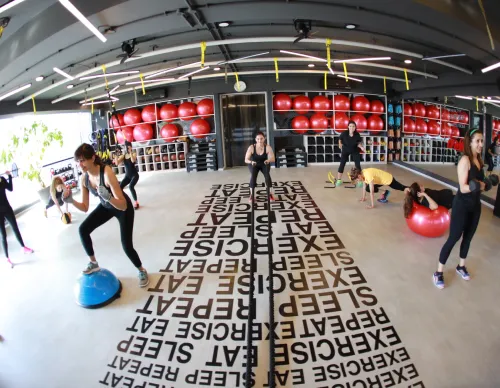 Core
Physical strength starts in the core. Working the abdominal muscles for one hour through various exercises geared to strengthen the core. Classes include Ab&Bum, and Core Power Yoga.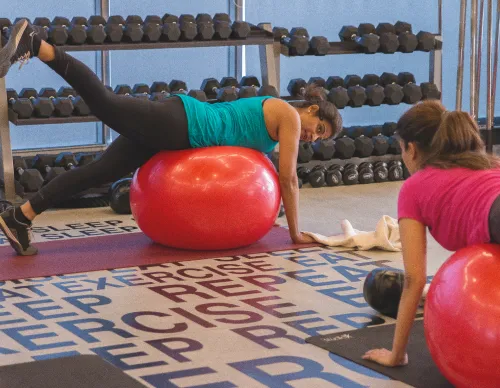 Body Sculpt
Body Sculpt class combines weights and cardio for maximum results. The class is a full body workout and fast paced to burn and strength within the 60 minutes. The weights help to build muscle while the cardio helps burn calories. Exercises include, burpees, squats, kettlebell swing, tricep dips, mountain climbers etc.
Pilates
Pilates is a method of exercise that consists of low-impact flexibility and muscular strength and endurance movements. Pilates emphasizes proper postural alignment, core strength and muscle balance. This class is great for anymore who wants to tone, elongate muscles, increase core endurance and rehabilitate.
Kettlebell
Kettlebell exercises work on compound exercises; using more than one muscle at a time without isolation and hence increasing overall strength. An example of a strength workout combines kettlebell swings, front squats and reverse lunges. Further, kettlebells strengthen the tendons and ligaments, making the joints tougher and less susceptible to injury.
Kickboxing
Melt fat, fast. Combining martial arts techniques and heart-pumping cardio, kickboxing is a high-energy workout that is guaranteed to burn calories and fat through punches and kicks!
Yogalates
Is a fusion of Pilates and Yoga: combining the benefits of strength training of Pilates and the flexibility of yoga. Benefits include flexibility, muscle toning and endurance of the mind and body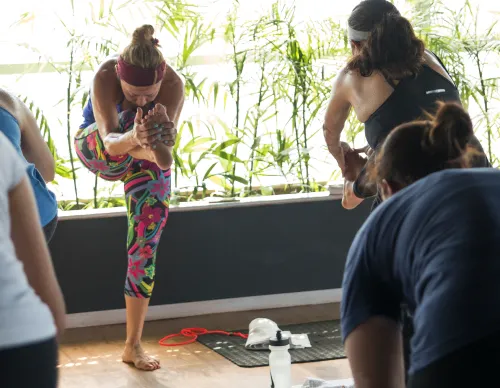 Indoor Cycling
Indoor Cycling is a 45-minute cardio ride, done in a dark room with disco lights and a killer playlist to keep you motivated and pedaling. The class focuses on strength, speed and endurance. For those looking for a low impact intense cardio burn, this class is just for you!